Welcome to the Hotel "Akvarel"!
A new modern hotel in the center of Nizhny Novgorod is waiting for its guests!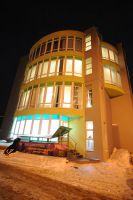 Planning a trip somewhere,everybody certainly starts with choosing a place to stay among a wide variety of offered hotels . Nizhny Novgorod is a tourist and a business center of the near-Volga region, that is why it can offer many different kinds of hotels: grand, small (mini-hotels), private hotels and country clubs, which makes the choice both rich and difficult at the same time. But in case you are looking for the best hotel in Nizhny Novgorod, you can stop in our hotel "Akvarel" .
The private hotel "Akvarel" is situated in the quiet center of Nizhny Novgorod, and it is an ideal place to stay both for business travellers and for tourists. In the mini-hotel "Akvarel", one of the best hotels of Nizhny Novgorod, you`ll find a warm friendly atmosphere, comfort and safety. The staff is caring and obliging.

Hotel "Akvarel" is a separate five –storey building , with large French windows and spacious,comfortable rooms. There are 29 rooms in our mini-hotel, they are warm and cosy, clean, light and spacious. We guarantee you our perfect service. We are ready to help you in your individual needs,and try to solve any of your problems.

Our tactful and caring staff will create favourable conditions for your business and rest in our hotel. Our reliable security service guarantees you a safety and a quiet rest. The hotel "Akvarel" offers free breakfasts in its café to all the guests. There is a health center operating in the building of the hotel and a wide choice of other extra-services. Add to the above : the fine combination of the price and the quality of the services, the comfortable location (in the center of the city), the possibility to arrange events and you`ll see that you can be provided with everything you need for your business and rest in our mini-hotel "Akvarel".



You can reserve a room the whole day round over the phone:

+7 (831) 463-88-33, 423-44-46


or fill the reservation form on our site.



We are glad to see you! You are welcome!